SOLAR INVERTERS FOR PV SYSTEMS
Many people spend many hours wondering which panel they should choose and don't give a thought to any other component of the system.
However the real heart of the system is the solar inverter, a very clever piece of kit which costs between £500 and £1,200 on a typical small scale / domestic system (depending on size). A typical commercial-scale inverter (20 kW) can range between £1,500 and £4,500. For this sort of money it's worth a read on what you are buying!
The role of the solar panel inverter
The panels generate DC (direct current) electricity. However the national grid and every electrical item in the house runs on AC (alternating current) electricity. The main task of the inverter is to convert DC into AC, synchronised with the supply voltage. It also has important safety features to protect your system and to protect engineers working on the national grid in the event of a power cut on the grid. Sounds simple but if you read on you will start to discover some of the clever bits.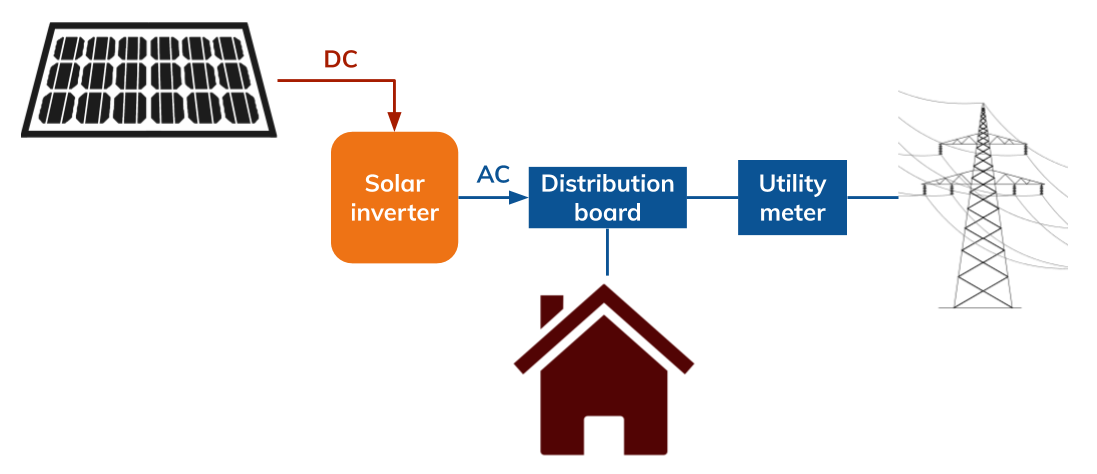 Types of solar inverter
There are actually five different types of solar inverter in use in the solar industry as follows:
string inverters;
micro-inverters;
inverters designed for power optimisers;
hybrid inverters: battery storage plus solar;
central inverters.
Each of these is explained below. For a brand comparison, see our best inverters page.
String inverters
String inverters are the 'standard' inverter used in the UK for domestic and small scale commercial systems (up to around 1MW).
In solar power, a 'string' is a group of panels – typically up to 14 – wired together in series, and connected to the inverter. The inverter may have inputs for up to 12 strings in parallel.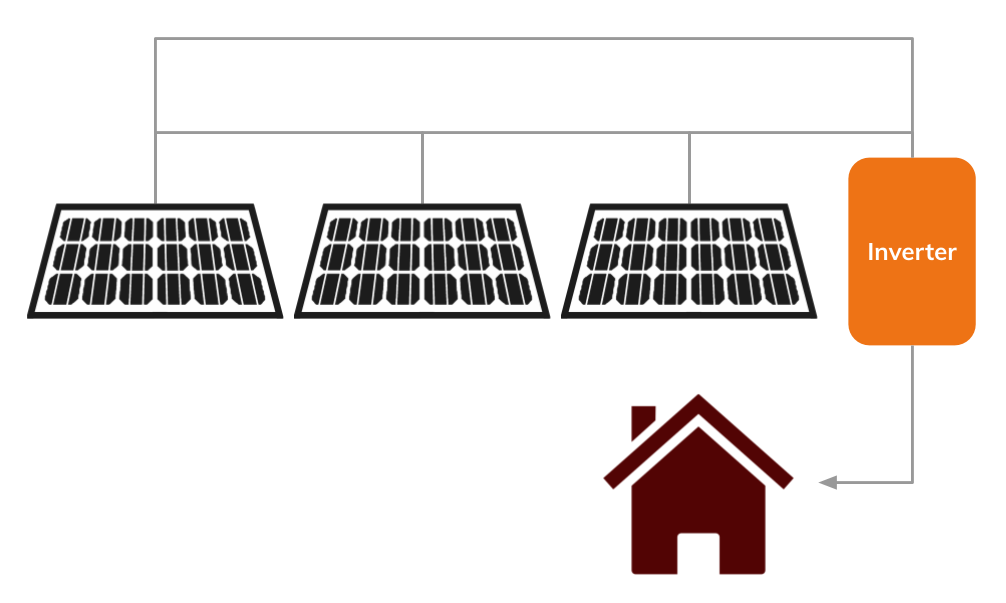 The inverter optimises the performance of each string using Maximum Power Point Tracking (MPPT). Some products perform better than others, so it's worth considering if premium solar inverters are worthwhile for your project.
Micro-inverters
Micro-inverters are very small solar inverters, designed to fit one per panel, attached behind the panel. They allow optimal operation of each panel, with each panel able operate independent of the rest of the array. They are particularly effective on complex roof layouts, or where there are shading issues. Overall micro-inverters can increase output from the array by 5%-30%. The downside is that they cost more upfront. Furthermore, because the 'power electronics' of the systems sit at roof level, maintenance is likely to cost more whenever access to the panels is costly (e.g. on sloping roofs requiring scaffolding).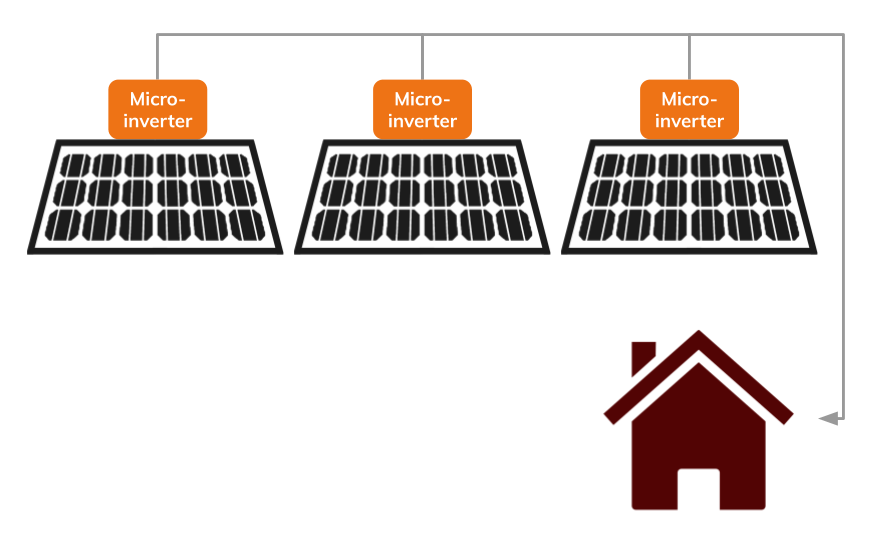 Enphase micro-inverters are probably the most well known micro-inverters on the market.
Power optimisers + inverter: SolarEdge / Tigo
'Power optimiser' based systems arguably combine the best of string inverters and micro-inverters. Rather than installing a 'whole' inverter per panel, power optimiser systems have a power optimiser installed behind each panel, as well as an inverter installed somewhere more accessible. Thus they allow for optimisation of the output of each panel, whilst keeping the electronics installed at 'panel level' are kept to a minimum. They are particularly effective where there is shade, or with complex roof layouts.
Systems using power optimisers cost less than systems using micro-inverters power electronics. Furthermore, systems using power optimisers are simpler, and, because they duplicate only the bare minimum required for optimal performance, power optimiser systems are less likely to go wrong than micro-inverter systems with a lower expectation of failure at roof level.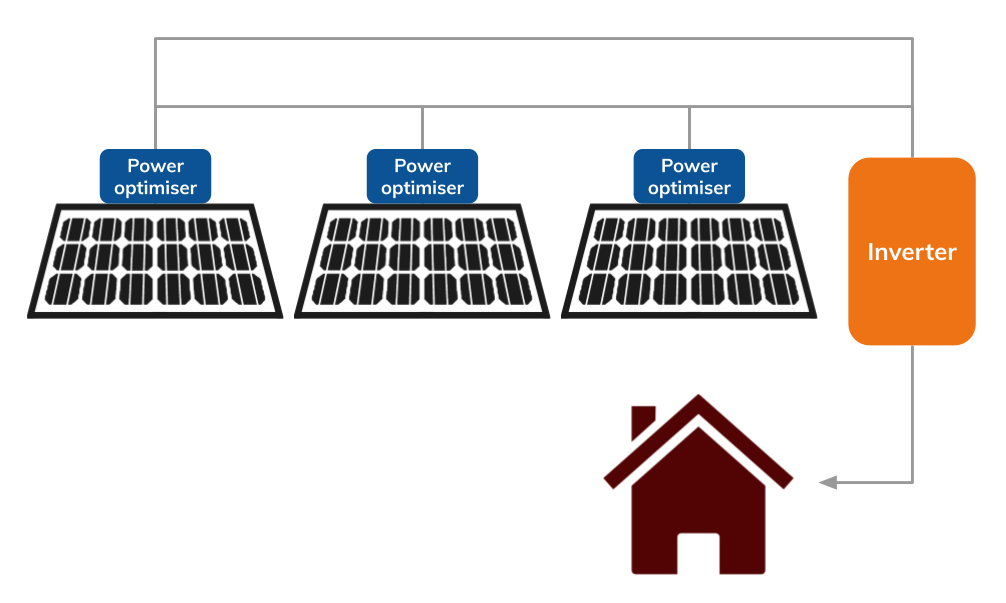 Find out more about SolarEdge systems.
Hybrid inverters
Hybrid inverters combine a solar and battery inverter together in one unit, enabling DC power generated by solar (or wind) to be converted directly to AC, or to be passed through to a battery for storage, before being converted to AC. Unlike standard 'one way' (DC to AC) inverters, hybrid inverters work 'both' ways, enabling AC electricity to be taken from the grid or a generator, converted to DC and stored in the battery.
Schematic for 'DC coupled' battery storage using a hybrid inverter: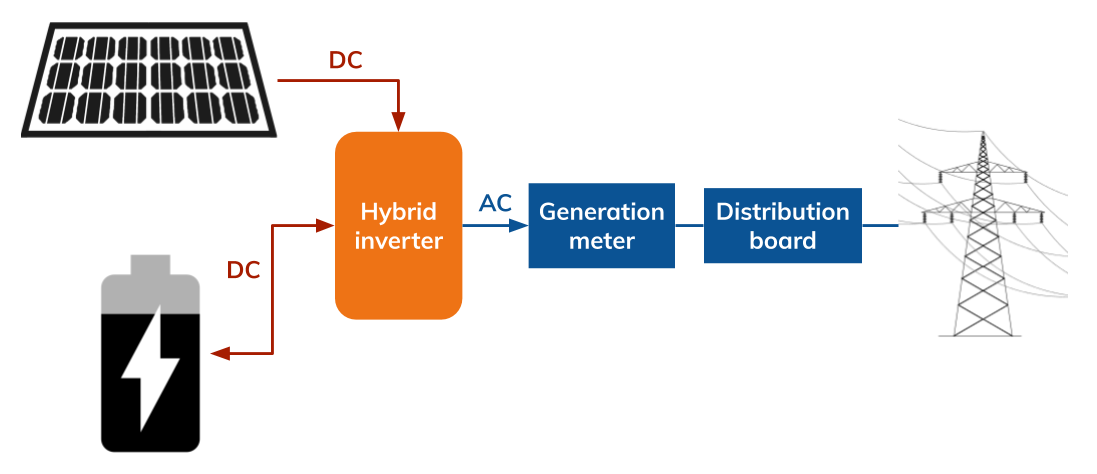 You can still add battery storage to a system designed with another type of inverter such as a standard 'string' inverter. However the battery will be AC coupled as in the schematic below, meaning that excess power from the solar panels will be converted from DC to AC and then back to AC again to be stored in the battery.
Schematic for 'AC coupled' battery storage using a hybrid inverter: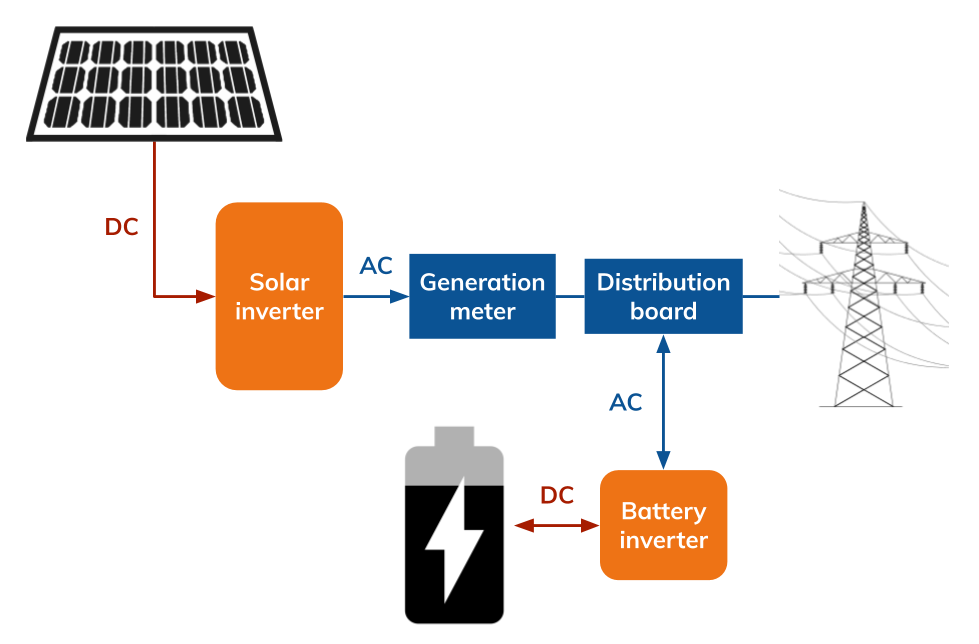 AC coupling increases AC to DC conversion losses and is not as efficient as DC coupling. It would be better to store excess solar in the battery BEFORE converting from DC to AC, as in the schematic above. Using a hybrid inverter also means that only one inverter is required for a combined battery storage and solar system. You can install a solar system without storage using a hybrid inverter, and then add storage at a later date.
Most battery storage systems are in fact AC coupled, including the very popular Tesla Powerwall 2. AC coupling makes sense when retrofitting a battery to an existing solar system which already has a solar inverter in place. However with new build properties or new solar systems being installed with storage, a hybrid inverter makes more sense.
Central inverters
Central inverter units start from around 100kW in size and are therefore not relevant for domestic or small scale commercial systems. They can be as large as 4MW and they are generally used on large scale solar farms to 'centralise' power into one place. String combiners are used to combine parallel strings of panels; these are then recombined to feed into the central inverter. The alternative is to use large numbers of small string inverters, creating a 'distributed architecture'.
At large scale, central inverters provide a less expensive solution than string inverters because fewer inverters are required per site. For example, a 20 MW solar farm could use five to 10 central inverters along with combiner boxes, or it could use several hundred string inverters. This is the main reason for using central inverters. String inverters generally provide more granular energy optimisation (due to Maximum Power Point Tracking). Furthermore, they have the advantage that if one string or inverter fails, only a small percentage of the solar farm's power is lost. With central inverters, much more power will be lost if one inverter goes down. Furthermore, troubleshooting and / or fixing a central inverter is a more specialist occupation than troubleshooting and / or fixing a string inverter. It is also much less expensive to hold spares of string inverters than it is to hold a back-up central inverter.
In the UK, for smaller scale solar farms (up to 5MW), string inverters tend to be preferred.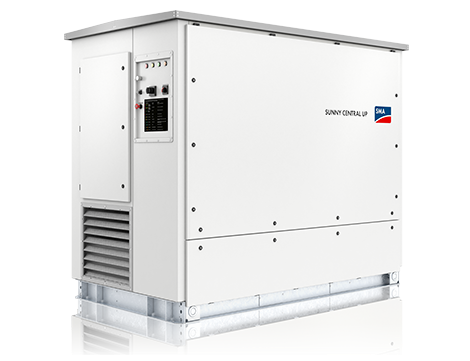 Fully automated operation
After sunrise, as soon as there is sufficient output generated by solar modules, the control unit starts monitoring the utility line voltage and frequency as well as the available energy in the panels. Once enough sunlight is received, the solar inverter starts feeding the utility transmission grid. Depending on the type of installation, a few watts of solar power will be enough do the job!
The inverter will now continue to work such that it always draws the maximum of power from the solar modules. This function is called MPPT (Maximum Power Point Tracking) and is carried out with a rate of accuracy of more than 99%! After dark, when the energy offered is no longer enough to feed the utility transmission grid, the inverter automatically cuts the connection to the grid and stops operating, of course with all settings and data being conserved.
Grid monitoring, safety cut out
Inverters need to meet minimum safety standards and conform to industry standard protection settings. This means that they need to monitor voltage and frequency and stop operating in case of irregular grid conditions (e.g. utility outage, interruption). If any protection setting is breached they stop the feed into the grid. This is important. In the event of a power cut engineers will work on the electricity transmission lines to find the fault. Obviously they can't do this if your system is still pumping electricity into the grid.
The inverters also feature a high frequency transformer that ensures a galvanic separation of the DC side from the utility transmission grid.
Get in touch today for advice on the best solar inverter for your system.
HUAWEI
Smart PV String Inverters
The new standard in utility-scale solar.
Max DC voltage: 1500 V / 1100 V
Max AC apparent power: 105,000 VA / 66,000 VA
6 MPPTs for versatile adaptions to different layouts
12 strings intelligent monitoring and fast trouble-shooting
Max. efficiency 99.0% / 98.9%, EU efficiency 98.8% / 98.7%
Optimised performance for maximised ROI.
Max DC voltage: 1500 V
Max AC apparent power: 66,000 VA
4 MPPTs for versatile adaptions to different layouts
8 strings intelligent monitoring and fast trouble-shooting
Max. efficiency: 99.0%, EU. efficiency 98.8%
Our most versatile inverter yet.
Max DC voltage: 1100 V
Max AC apparent power: 47,000 VA / 40,000 VA / 33,000 VA
4 MPPTs for versatile adaptions to different layouts
8 strings intelligent monitoring and fast trouble-shooting
Max. efficiency: 98.8% / 98.8% / 98.6%
Ideal for commercial application.
Max DC voltage: 1000 V
Max AC apparent power: 22,000 VA / 18,700 VA / 13,200 VA / 8,800 VA
2 MPPTs for versatile adaptions to different layouts
4 strings intelligent monitoring and fast trouble-shooting
Max. efficiency 98.6% / 98.5%
SMA INVERTER
SUNNY HIGHPOWER PEAK3
Customized for tomorrow, today.
ennexOS ready
Tailored to the unique needs of utilities with up to 150 kW from the pioneer of PV power plant systems
Get large-scale projects up and running easily.
1500 VDC , 150 kW, compact design
PEAK3 stands for pure power. With its compact design, the inverter offers the highest power density per device. The advantages: optimal performance at a light weight. The result is cheaper transportation and easier installation. In combination with the project-specific DC Combiner Boxes, the PV array can be oversized up to 150 %. The Data Manager completes the system and enables it to fulfill all of the grid operator's requirements.
Maximum safety & reliability
The PEAK3 inverter focuses on what is most important – maximum yield and optimal plant availability. All features and components are custom-tailored in order to keep the weight down, to minimize potential error sources and to maximize efficiency. Proven technologies such as the active cooling system SMA OptiCool ensure a long lifetime of the inverters.
Flexible, easily scalable plant design
The PEAK3 system solution combines the advantages of a decentralized system layout with those of the central inverter concept. The DC Combiner Boxes enable efficient planning and easy expansion of large-scale solar plants even on heterogeneous terrain. Thanks to the modular approach, projects can be scaled both in terms of power and function. This means maximum flexibility in the plant design.
Ready for the digital energy world of tomorrow
The PEAK3 system solution is ready for ennexOS, SMA's pioneering digital platform. ennexOS converges the data of all relevant energy sectors to realize modern, forwardlooking products in the energy industry. The platform is gradually extended and currently offers powerful features such as satellite-based performance ratio monitoring.
Fast installation, easy commissioning
The PEAK3 system solution offers smart functionalities for quick and safe installation of all devices. Ergonomic grips and the integrated hook-in mechanism simplify the mounting of the inverters. Large, stiff DC cables can be conveniently routed via a separable connection plate and allow hassle-free connection. A single Data Manager enables up to 200 inverters to be commissioned centrally in just a few minutes.
Efficient control, convenient monitoring
Each device can be controlled directly via reliable, fast Ethernet communication between Data Manager and inverter. The entire plant portfolio can be centrally monitored with the new Sunny Portal powered by ennexOS. Changes to the configuration are easily made across plants without setting up multiple VPN connections. Additional monitoring systems can access all devices via the open Modbus / TCP interface.
The future-proof solution that grows with your requirements
More than 20 years of utility experience have gone into the development of the PEAK3 system solution. Central handling, decentralized system and a modular concept – that's exactly what makes PEAK3 so convincing. The powerful supplements help you get the most out of large PV plants.
SUNNY TRIPOWER CORE1
Stands on its own
Up to 60% faster installation of commercial PV systems
The Sunny Tripower CORE1 is the world's first free-standing string inverter for decentralized rooftop and ground-based PV systems as well as covered parking spaces. The groundbreaking new design allows reductions in installation time of up to 60% and, at the same time, lowers the total cost of ownership (OPEX).
Top Performance and Maximum Efficiency Thanks to Innovative Design
The CORE1 is the third generation in the successful Sunny Tripower product family and is revolutionising the world of commercial inverters with its innovative design. SMA engineers developed an inverter that combines a unique design with an innovative installation method to significantly reduce installation time and provide all target groups with a maximum return on investment.
Scalability for Maximum Energy Yields
With a capacity of 50 kW, the Sunny Tripower CORE1 is scalable up to the megawatt range
The unique design enables over-dimensioning of a PV array of up to 150%
Six independent MPP trackers guarantee optimal energy production for every use, even in shading
Consistently Integrated Concept
The innovative, fully integrated design ensures low BoS costs, simpler processes and lower material expenses
Alongside the 12 direct string inputs, a DC disconnector and, as an option, AC and DC overvoltage protection are integrated
Efficient and Economical
No additional mounting racks are required
Only a simple substructure is needed for other commercial PV applications
There are additional savings from the considerably lower expenditure on logistics, installation and materials
OptiCool™ Active Cooling System
Ensures reliable operation and maximum energy production
Secures your investment in PV
Reduces maintenance costs due to its high-performance technology, which has proved its worth worldwide in over 50 GW of installed power
Fast, Easy Communication
Integrated Wi-Fi interface enables access with any mobile device
Easy and uncomplicated configuration and commissioning with the SMA online assistant accelerate installation
Smooth Grid Integration
Powerful PV system monitoring and control functions, SunSpec ModBus® compatibility and optional 24/7 remote monitoring
Reduces maintenance costs due to its high-performance technology, which has proved its worth worldwide in over 50 GW of installed power
The Future of Commercial PV Systems
From delivery and installation to operation, the Sunny Tripower CORE1 generates widespread savings in logistics, labor, materials and services. With integrated Wi-Fi access for fast commissioning, up-to-date plug-and-play communication and smart grid support functions, PV installations are quicker and easier to complete than ever before.
Achieve Cost Savings…
SUNNY TRIPOWER CORE1 for distributors
Flexible use with just one product
Worldwide platform for universal use
Fewer components and BoS components
Extensive support and service
Reduce Installation and Purchase Price…
SUNNY TRIPOWER CORE1 for EPCs and Developers
Plug-and-play concept
Faster installation and lower labor costs
Reduced material costs
Free tool for system planning
Ensure Top Performance…
SUNNY TRIPOWER CORE1 for energy providers
The lowest LCOE
Optional 24/7 remote monitoring thanks to SMA's number one rated service team, worldwide
An effective interface for customer monitoring
Intelligent grid management service
SUNGROW INVERTER
SCHNEIDER INVERTER
KACO INVERTER
FRONIUS